The fastest internet speed with enough bandwidth is not possible if your wi-fi signal is not strong.
Even though you use a great internet provider's internet service like CenturyLink, your home wi-fi signal will not always be perfect as signals may slow down for different reasons.
So, if you face any wifi signal issue with CenturyLink, then don't be concerned as there are some easy options that may help to solve the wifi signal issue.
In this article, we will know these factors of how you can boost your CenturyLink wifi signal. So let's get started!
8 Simple Ways To Boost Your CenturyLink Wifi Signal
1. First Speed Test Your Wired Internet
Your CenturyLink weak wi-fi signals may be caused by an issue with your wired internet connection.
So, you have to use an ethernet cable to check the speed test as you can be sure that you're actually getting the right internet speeds in accordance with your internet plans.
After checking, if you find that your wired connection speed is lower than your internet plans, then there may be a technical problem with your wireless connection.
So in this case, it will be wise to contact your CenturyLink service provider to diagnose the actual issue.
2. Place Your Wi-Fi Router In a Central Position
To get a strong wireless network, you have to place the wifi router in a central position in your home so that you can get strong wi-fi signals from every location in your home.
Also, you can set up your wifi router closest to your working place to get the strong wifi speed. To find the best spot from where you can get high-speed internet, you can also test your wifi speed from a different location by moving your wifi router.
In the spot where you placed your router, if you get the best wireless connection speeds there, you have to place the router in that position.
Keep in mind that, the best spot to place the router is the closest position to your working place where there will be no metal objects or other obstructed materials that cause weak wifi signals as well the position will be quite high.
3. Change the Wi-Fi Channel
Wireless interference is also a major cause of slow wi-fi connection. So, if you change the wireless channel of your router, then it might boost your wi-fi connection.
Usually, the default wifi channel of the wifi equipment in the U.S. is set to 6. If you experience wireless interference in your home wifi network from other devices, then change the channel between 1, 6, and 11.
Click here to know how you can change your CenturyLink wi-fi channel number.
4. Check Firmware Update of Your Router/Modem
If your CenturyLink modem/router is outdated, then it may cause a slow internet connection.
So, you have to check the firmware update of your router/modem, if it's not upgraded, then upgrade it to the latest version as the firmware of the modem or router is the internal programming that helps to run your wifi equipment properly.
Click here to know how to update your CenturyLink router/modem firmware.
5. Move To a New Modem and Router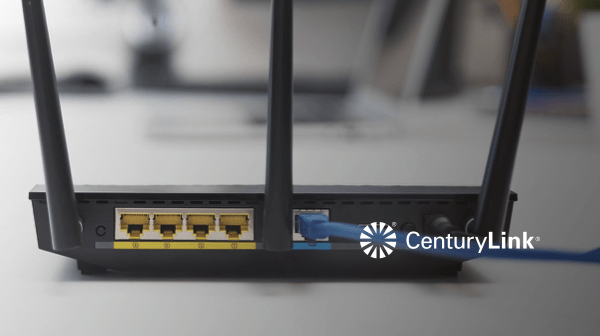 After fixing probably all the weak signal issues, if you experience a slow internet connection.
Even after fixing all the probably weak signal issues, if you feel a slow internet connection, then you should decide to get a new modem or router to boost your wifi signal.
If your modem or router is from CenturyLink then contact their service provider team and if not then find the best wifi router or modem in the market that ensures the best quality overall.
You can also get a combined modem and router from CenturyLink.
6. Use Wireless Boosters
A wireless booster might be a good choice to boost your CenturyLink wi-fi signal as it can amplify the wifi signal of the router.
But when you choose a wi-fi booster, ensure that your wifi booster is designed with omnidirectional antennas to extend signals 360-degree coverage in your home.
However, if you want to boost your wireless connection without creating a separate network, then a wireless booster or internet booster could be the best option.
7. Use A Wi-fi Extender/ Repeater
A wi-fi extender or repeater also can be a great choice to boost your weak CenturyLink wi-fi signal broadcasting a separate signal connecting to your existing wifi network.
Wifi repeaters/extenders are comparatively affordable as well as very simple to set up.
So, you just have to choose a great quality wi-fi extender or repeater and set up it in a right place from where it can both catch your existing wifi router's signals and reach the signals to the dead spots in your home.
8. Avoid Obstacles That May Interfere Your Wifi Connection
There are many household appliances like microwaves, baby monitors, wireless speakers, cordless phones, Bluetooth devices, and other electronic devices that may cause blockage or slow down your internet connection.
So, you have to place your wifi router away from these interferences.
Frequently Asked Questions
What is the best router for CenturyLink?
Considering the price, Amazon reviews, and overall features, in my opinion, the TP-Link (Archer A7) Dual Band  AC1750 Smart WiFi Router can be the best wifi router for CenturyLink.
What is the best Wifi Extender for CenturyLink?
Considering amazon customer reviews, and overall features of the extender, the TP-Link (RE450)WiFi Extender AC1750 can be the best wifi extender or repeater for CenturyLink.
Why is my CenturyLink Wi-Fi so slow?
Your CenturyLink signal can slow down for different reasons including bad weather conditions, electronic signal obstacles, router firmware outdated, malware attacks, or other problems.
How do I fix my CenturyLink Wi-Fi?
You can fix your CenturyLink Wi-Fi by resetting the router or modem, upgrading the router firmware, removing physical network barriers, setting up the router at the right position, or following our 8 steps.
To know details on how you can fix your weak CenturyLink wi-fi signal, click here.
Can I use my own router with CenturyLink?
Yes, obviously you can use your own wifi router with CenturyLink internet provider to get a strong wi-fi signal.
Final Verdict
Though CenturyLink is a great internet provider, you can experience weak wifi signals for various reasons.
So, if you follow our 8 simple ways, hopefully, you can get a stable connection and improve your wifi signals. Thank you.